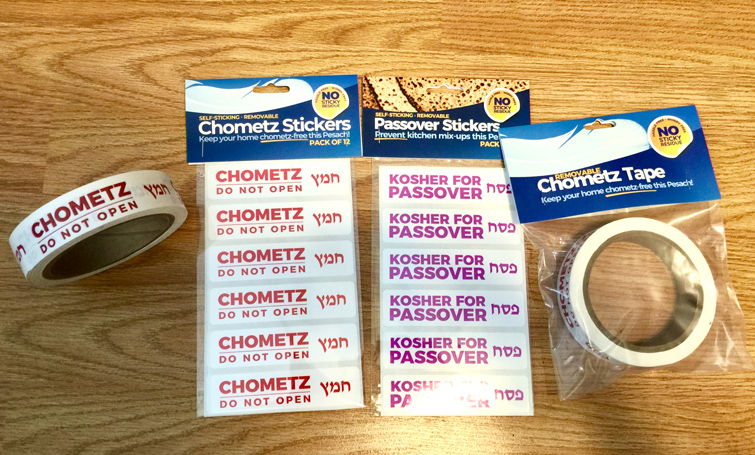 The time leading up to Passover can be hectic. As you turn your kitchen upside down to remove all traces of chometz, you surely wish there were an easier way to keep track of what areas have already been cleaned and which are off-limits. This can be an especially difficult task when you add children and other family members into the mix! Luckily, Kosher Tape Plus has two great products to help you indicate chometz and kosher for Passover.

Use Kosher for Passover and chometz stickers to clearly label what should and should not be consumed during Pesach. The stickers have a strong adhesive but won't leave any messy residue, so they can safely be used on kitchen cabinets, wood surfaces, wallpaper and more! Designate certain areas of the house as chometz or Kosher for Passover and leave the stickers up all year round, or easily peel them off when you convert your kitchen back after the holiday. These stickers have large, bold text that can be easily recognized by anyone. They are the perfect solution to keep your kitchen kosher and chometz-free!

If you want to be extra sure that no one gets into your chometz, you can take your Passover prep even further with our chometz and Kosher for Passover tape. Use the tape to close items and protect areas to ensure that they stay sealed until after Passover. This flatback tape is high quality, has a strong adhesive and is printed clearly to ensure that your items stay protected and no accidents happen.

No matter which product you choose for Passover prep, your holiday will be less chaotic. Just stick your tape or stickers where they need to be and go about your day! With chometz and Kosher for Passover areas clearly marked, you can focus on making your holiday the best it can be.