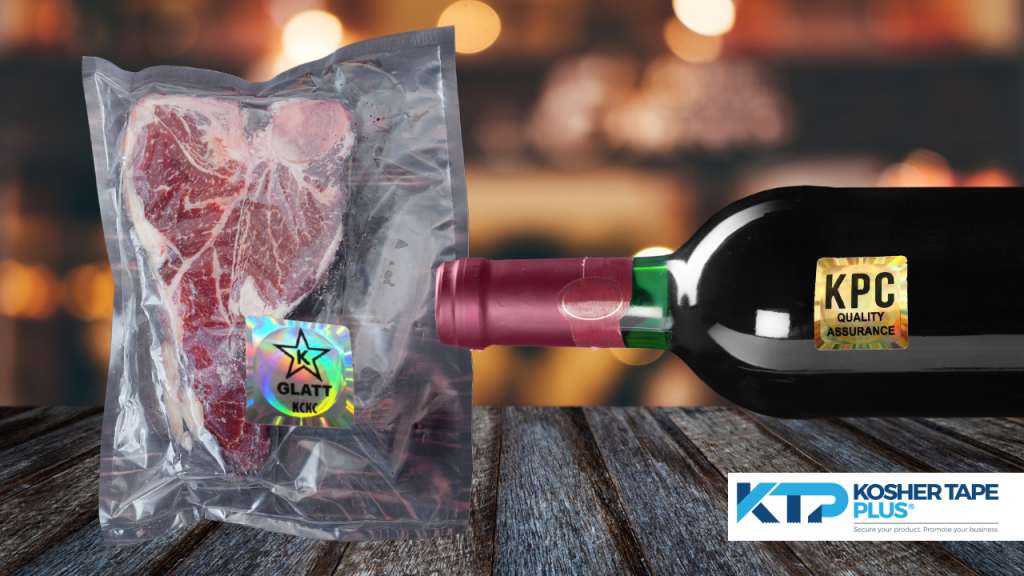 When it comes to ensuring the integrity of kosher food, Kosher Tape Plus are once again leaders in the field. Introducing hologram stickers: a state-of-the art simin (sign) that marks a food as kosher.
Hologram stickers are mostly used for vacuumed-packed meat, sealed cheese, and bottles of wine, and are ideal for mass-produced food products sealed in factories or processing plants. The hologram stickers are used to validate the authenticity of the kosher symbol on the product label. 
Our state-of-the-art security features mean that a sticker cannot be removed from a kosher food item and placed onto a non-kosher food item because the sticker is non-transferable and will leave a "VOID" mark when removed. If you're concerned about package tampering or unlawful label reproduction, our highly secure hologram stickers are for you. 
Kosher Tape Plus offers two options to suit your needs. Both options of hologram stickers are very secure and tamper evident. Option one is printed in house, with a very quick turnaround time. They are 22mm in either gold or silver. They have overprinting, and leave a "VOID" mark. Order quantities can be as low as 1,000. Option two, is much more customizable with embedded security features including but not limited to laser serial numbering, pearl with text effect, secret code, and micro text. Additionally, these stickers include effects such as foreground/background, kinetic effect, sparkle effect and gradient effect which make them not easily forged. We recommend including at least three features to ensure they are secure, tamper evident, and cannot be illegitimately reproduced. The price on these can be as low as three cents per sticker. They have a minimum order quantity of 50,000 and a longer production time.
Safety, security, and branding with a simple sticker. We believe in adding value through everything we do.